The Official BSC Token of Project Pokelon
1/1
ULTRA RARE HOLOGRAPHIC NFTS, GIVEAWAYS AND MORE!
Pokelon League is now in Open Beta! The community is working together to identify bugs and we're launching daily patches. Learn more here.
We've officially opened the Pokelon Academy. Just getting started and don't understand how everything works? Everything you need to become the very best is here.
If you're holding tokens, you should be staking! Head over to the farm and stake your Pokelon in order to earn points and claim NFTs for free! Staking/unstaking fees less than $0.20!



Learn more here!

The Pokelon Project has been holding daily giveaways since we first launched back in April and that will never change. But that's only one way to get your hands on Pokelon NFTs and become the very best.

Click here to learn all the ways to catch Pokelon!
Our Telegram Community has a bi-weekly tournament where Pokelon Trainers can earn experience points based on how active they are in chat.

Earn enough experience and you'll level up! Everyday at 11 AM PST, we host "Golden Hour" where there are XP bonuses as high as 1000X! If you get to a high enough level, you'll land on the leaderboard and become eligible for special giveaways of rare Pokelon!

Check out our Telegram and check out the leaderboard here!

You're never too late! All levels reset twice a month!
Most base-level Pokelon you earn from the farm can be
evolved! Simply farm or purchase a Moon Stone, Mars Stone or Dump Stone, bring it to the Elonmart, fill out a form and you'll receive the evolution of your card!
The Pokelon Community has a separate chat called the ElonMart where you can arrange trades or buy and sell rare Pokelon NFTs!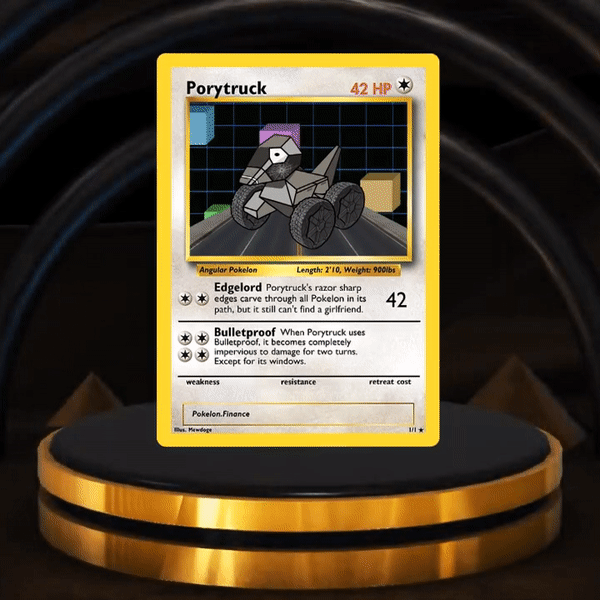 Pokelon NFTs are playable cards that can be used in the Telegram Game, Pokelon League.

Generally speaking, they can be broken down into four types of rarity. Common, Uncommon, Rare and Legendary.

Each Pokelon has both holographic and non holographic variants! Holos are typically only obtained through giveaways, so if you have one, consider yourself lucky.

Currently, we are just finished the First Edition and launching the Second Edition!