The Official Token of Pokelon
0xc6015d6e1b4a002280fb93eb9ac39e2461ff9495
NEW POKELON NFT giveaway IN:
Total Supply:

1,000,000,000,000,000


Presale:

400000000000000 (40%)


Available At Listing:

400000000000000 (40%)


Private Sale:

100000000000000 (10%)


Staking Reserve:

5

0000000000000 (5%) [

View Lock

]


Marketing Tokens:

30000000000000 (3%)


Development Tokens:

20000000000000 (2%)


Buy Tax

:

2% Holders, 4% M

k

tg, 6% Buyback


Sell Tax

:

7% Holders, 7% M

k

tg

, 4% Buyback


Safe To Ape, Liq. Locked Goodness:

100%
Elonballs is a brand new token that acts as the core utility engine for the Pokelon Ecosystem and brings a wide variety of new features for holders.

But also, god damn would you just feast your eyes on this luscious Pikalon for a minute? You know he knows where the real money is at.
At launch, $ELONBALLS holders will be able to stake their tokens and earn ultra rare NFT Pokelon NFTs as a staking bonus to be used in the official Pokelon game! No minimum staking period. Staking fees less than $0.20!



We've brought Pokelon cards to life with Pokelon Physical NFTs. These are actual playing cards with QR codes on the back that correspond to the digital NFT you already own and will be given away to holders of Elonballs.

And the best part? Unlike so many projects that promise cool ideas like this, ours are already complete and ready to go!
mARKETING
MASTERED
4 percent of every transaction on Elonballs will go towards the marketing wallet, ensuring that the project has the funds to continue expanding into the future.
Gyaradip is the powerful dip-eating Pokelon that will buy Elonballs and Pokelon at regular intervals. It's super-effective against weak hands!
Elonballs is currently developing a Telegram based bot that will allow holders to connect their wallets and battle any Pokelon that they currently own!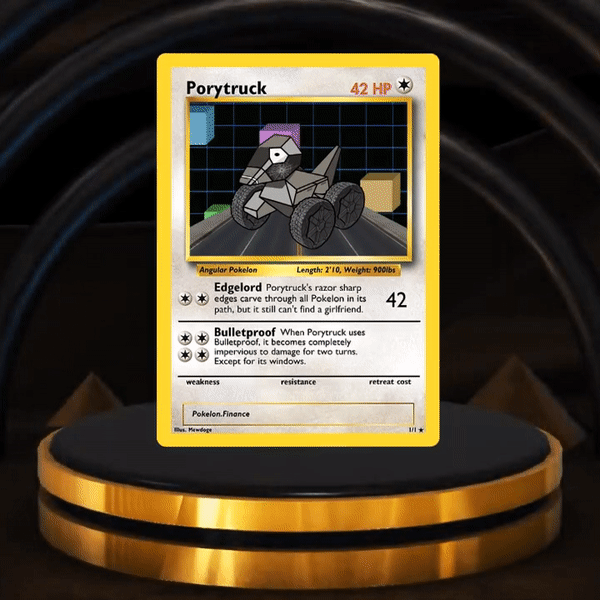 Just like the Red & Blue counterparts of the beloved franchise that Pokelon parodies, Pokelon and Elonballs holders will have access to different sets of NFTs and will be required to trade or own both tokens if they want to collect all of them.

Holders of both tokens will be eligible to win Legendary Pokelon NFTs, the rarest NFT cards that the project will ever mint.

These NFTs will have both physical and digital counterparts.
Whenever the price of Pokelon or Elonballs doubles (2x), the community will gain access to a Moon Stone. Moon Stones are mysterious stones that can trigger an evolution in a known Pokelon in the Elondex. A vote can be held by the community on which Pokelon will evolve and within 48 hours, a new Pokelon NFT Card of that evolution will be minted.

Moonstones can be farmed, too!
Pokelon Trainers can purchase Moon Stones, Dump Stones and other curious items from the Elonballs Farm to evolve their Pokelon at the Elonmart!


Frequently asked questions
How do I get in the Elonballs Presale/Private sale?
---
It's important to note that the presale and the private sale are two separate things.

The Elonballs Presale has a hardcap of 320 BNB with a maximum allocation of 2 BNB. 25 people from the Pokelon community who are top 100 holders will be randomly selected to win a whitelist spot. But anyone can win one of 100 whitelist spots for the presale by going here completing the tasks here: https://sweepwidget.com/view/27416-qravjwns

The Private Sale is exclusively for influencers and promoters who are actively promoting Elonballs on their social media, telegram channels, etc. These are still paid spots and the funds go directly into marketing.
---
How will you prevent dumping after presale?
---
Dumping is an unfortunate reality of all presales. However, we've set out to minimize this impact by ensuring that no presaler owns more than 0.5% of the supply. Because of the purchase/sell limit, new investors will not be able to buy more than a presaler after listing, either.

We're also taking it further by ensuring that any presalers who have dumped their $ELONBALLS will not be eligible for NFT giveaways.
---
How do I catch Pokelon?
---
Catching Pokelon in the Pokeloniverse happens in the Telegram community through giveaways. Check out the whitepaper for more details on the various ways holders can catch Pokelon!
---
How can I get my hands on one of them beautiful Physical NFTs?
---
Physical NFTs can only be obtained through giveaways and, after their release, through Booster Packs.
---
When can I battle my Pokelon?
---
Battling Pokelon as a collectible card game is the ultimate goal of the project. After launch, we intend to use development funds to begin work on the game, with a Q3 release. More details will be released on the Telegram and main website.
---
---